Hello, I am off to lead the next tour featuring Churchfield Road and the surrounding area.
Let's walk, talk and explore the Churchfield Road and a lovely community built around it, with plenty of interesting and/or quirky businesses and the people who run them. It has an art gallery and a butcher's like no other plus so many other places we may see and talk about.
We will mention the artist, Eric Ravilious, as he was born in one of the houses (try to spot which one), see St Dunstan's Church where I met Derek, a once active cyclist who was baptised there, talk about ghosts and reflect on the past by the new village sign on East Acton Green. We will see the mini-golf in a vast park, the Goldsmiths' Almshouses (guilds will be mentioned) and that's not all! :-)
This tour is a MINIMUM of 3 hours but will likely go on for much longer. We then have the option to chill out locally. There are plenty of eateries and watering holes to choose from.
How much? £10 as always, receipt issued, kids free but you look after them, well behaving pets cordially welcome.
Do you have any questions?
Would you like to come and explore with us?
Have a great day and let us know if you are coming along!
Regards,
Joanna Dudzinska
Ealing Walking, Talking and Exploring Group is also on Facebook and Eventbrite.
PS: Please could we ask you to forward this event to anyone possibly interested?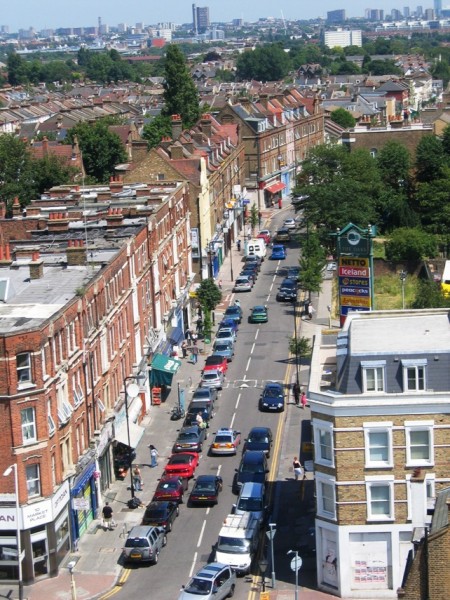 .......................
Do you want to read more?
Here you are: '
Orchard Road
, not Churchfield Rd, was how
Leo Sayer
actually referred to it in his hit 'Orchard Road' after his ex-wife moved out there when they split up. The singer's name rang the bell, the voice sounded familiar, but this song I didn't know or didn't remember. However, Youtube prompted my memory by suggested some other of Leo's songs including the big hit of my childhood days:
'More Than I Can Say'
! :-)'
I tried to forward this story to the man in a red jumper, but don't know if it reached him. If you know Derek, maybe we can arrange to meet him on our tour or some other day? And please give him my cordial regards. Thank you!
As we were talking I noticed the elderly man in a bright red jumper working with the volunteers. Somehow, we started talking and this is how I met Derek. He lives nearby, on the other side of the M40, close to John Perryn School and St Dunstan's has always been his church. He was christened there and his parents gave him two names: Derek Leonard, after his grandfathers. He was seven when WW2 broke out. On finding out that I had come by bike, as he was seeing me off, he smiled broadly and told me that he was a member of The Middlesex Road Club for many years. So many happy memories he surely has of those years. When he held the door open for me he pointed at the font which occupies a strange place: outside, opposite the entrance on the lawn. Derek is not at all happy about it. He said he had protested against it being left outdoors at the mercy of elements and local vandals, but to no avail. I can understand him. After all, it's the very same font he was christened in. I looked at the scene at that very moment and simply had to preserve the scene with my smartphone camera. Derek agreed for me to take a picture of him in the bright red jumper, the font behind him and the dark blue sky in the background.
Regretfully, I couldn't stay longer to listen to Derek's memories. I gave him my card if he wanted to call me for a chat, but I don't think he will call. As we were parting I gave him a hug and we stayed close for a moment, and I tell you, Dear Reader, a very powerful moment it was.
To me it was a very meaningful experience, this relatively short time with an old man I may never meet again, a man who has stories to tell, but not someone to listen to them.
REGRETFULLY, I'VE JUST LEARNT THAT DEREK PASSED AWAY IN A CARE HOME . I SO MUCH HOPED WE WOULD MEET AGAIN. MAY HE REST IN PEACE.
And:
I popped into The Rocket, a pub in Churchfield Rd W3 afterwards thinking to have a drink with the ARTification friends but on checking the time (and nicking a few of their snacks, sorry #Rachel Pepper, #Brian De Lord and all) I realised I had to get back on my bike and head for the Polish Cultural Centre in Ravenscourt Park or I would be late for a meeting with a very important woman: Mrs Anna Maria Anders. Those of you who are into WW2 history will not be alerted in vain. The lady who plays an important role for the Polish government on an international stage is the daughter of General Wladyslaw Anders and came to meet us and promote her book, invited by the Polish Library in London. I was happy to have the opportunity to share my memories relating to her father,
General Wladyslaw Anders
. Now, on the way to POSK I had to stick my nose (and camera) through an open door of St Peter's in the Green and saw a choir in rehearsal while on the way back home I got off my bike to check upon the progress on #Carrie Reichardt's mosaic-covered house.
And:
Churchfield Road - how not to stop by such a sight:
Yes, you can see water cascading onto the sofa with a strange object on it!
I was kindly invited inside along with my bike by Sophie, an artist herself. The exhibition I was about to see was of works by Linda Lieberman.